Kawasaki Exhibits Ninja ZX-14R and 12 Other Models at 2011 Tokyo Motor Show
Kawasaki Exhibits Ninja ZX-14R and 12 Other Models at 2011 Tokyo Motor Show
Nov. 16, 2011
Ninja ZX-14R
Tokyo, November 16, 2011 — Kawasaki Heavy Industries, Ltd. announced today that it will exhibit 12 models at the 42nd Tokyo Motor Show to be held at Tokyo Big Sight for 9 days starting on December 3. Three of the models, including Ninja ZX-14R, will be making their premier appearance in Japan at the show.
Kawasaki will take the opportunity to exhibit the Ninja ZX-14R, the flagship model of its Ninja line of sport bikes. It features the newly designed high-power 1,441-cm3 engine as well as other advanced technologies, including the new Kawasaki Traction Control System. Combining excellent sport riding performance and ease of handling, the Ninja ZX-14R is Kawasaki's latest masterpiece.
Another model from the Ninja line will be exhibited at the show. Ninja 650 is a middle-sized all-rounder that comes equipped with a revamped engine, offering superior power and controllability. With the aggressive styling characteristic of a Kawasaki Ninja motorcycle, its new compact frame will provide riders with a comfortable riding position.
Kawasaki will also introduce the Versys 1000, a high-end model of the 650 cc middle-class sport bike that is a favorite in the European and U.S. markets. Offering a unique package of a powerful in-line four-cylinder engine and long-stroke suspension, the Versys 1000 is designed to provide riders with the greatest riding enjoyment on any street.
Features of New Models for 2012
Ninja ZX-14R 
The Ninja ZX-14R is the highest-end model of the Ninja series and one of the most popular Kawasaki sport bikes. Featuring an enhanced four-stroke, liquid-cooled, DOHC four-valve, 1,441-cm3 in-line four-cylinder engine providing powerful acceleration performance, a suspension system that is more gratifying than ever, and the KTRC advanced Traction Control System, this flagship model incorporates the best of Kawasaki's technologies. The Ninja series is renowned not only for its exceptional sport riding performance but also for its greater usability in everyday riding situations. Its relaxed riding position, excellent wind protection, and new seat design all combine to offer superb rider comfort.
Ninja 650     
The Ninja 650 is a middle-sized all-around sport bike that strikes an exquisite balance between sportiness and rider comfort. Its lightweight, compact 649cm3 parallel twin engine, which has been redesigned to deliver increased torque in the everyday range, ensures smooth handling on city streets and greater acceleration performance for passing. Designed for casual sport riding, the chassis features a narrower body realized by the new double-pipe frame and a backbone-style rear frame that makes it easier for the rider to put both feet on the ground. The aggressively designed front fairing comes equipped with a height-adjustable windscreen, providing optimum wind protection that is ideal for long touring, and the characteristically short silencer adds to its stylish look.
Ninja 650
Versys 1000  
The Versys, a 650 cc middle-class sport bike that has gained many fans in the European and U.S. markets, offers a riding position that allows for excellent operability, making it the perfect motorcycle for enjoying "street surfing". A big brother to the original Versys, the new Versys 1000 pursued an even higher level of sport riding satisfaction. Combining a powerful 1,043 cm3 In-line four engine, long-stroke suspension and sporty 17 inch on road tyres, its unique package was designed to offer riders the greatest riding enjoyment in the widest possible variety of street riding situations – ranging from congested city streets, to twisty mountain passes, to long stretches of highway riding. Its tough looks have a functional beauty that is also appealing.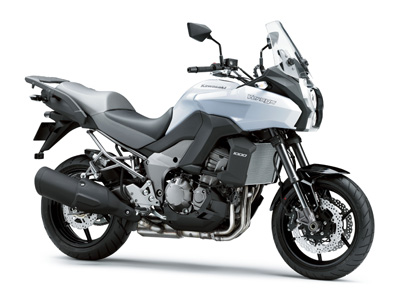 Versys 1000
Exhibited vehicles
| | | |
| --- | --- | --- |
| | ☆ | Ninja ZX-14R |
| | ☆ | Ninja ZX-14R (chassis only) |
| | ☆ | Ninja ZX-10R (race bike) |
| | ☆ | Ninja 1000 ABS |
| | ☆ | Ninja 650 |
| | ☆ | Z1000 |
| | ☆ | Z750R |
| | ☆ | Versys 1000 |
| | ☆ | Versys 1000 (with custom accessories) |
| | | W800 |
| | | W800 Special Edition (with custom accessories) |
| | ☆ | KR250R (race bike) |