Kawasaki to Launch 250-cc Naked Sport Model Z250
Jan. 31, 2013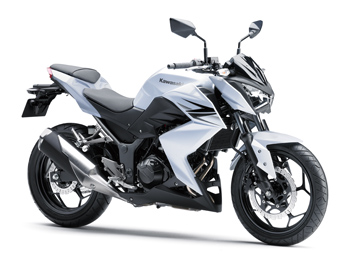 Tokyo, January 31, 2013―Kawasaki Heavy Industries, Ltd. announced today that it will launch the Z250, a new 250-cc addition to the Z Series of naked sport motorcycles, on April 15.
Great for long-distance touring on freeways as well as for getting around town, the 250-cc class is a perennial favorite. Many riders including novice and returning riders are finding these motorcycles suit their lifestyle perfectly.
A naked sport model, the new Z250 features a beefy, aggressive design that gives it an imposing presence on top of top-notch sport performance.
The Z250 inherits all the wild street-fighter excitement found in its Z Series predecessors. Its dynamic engine shrouds and aggressive visage create a strong visual impact. Superb attention to every detail of the bodywork gives the Z250 a sophisticated look that goes beyond anything one would expect in a 250-cc class motorcycle.
The superior rigidity of its diamond-shaped steel tube frame ensures a high level of performance and easy handling. The Z250's lightweight and compact liquid-cooled, four-stroke, parallel twin-cylinder DOHC four-valve engine (248 cm3) delivers substantial torque at low and medium rpm and strong acceleration at high rpm. Its fuel injection system and three-way catalyst provide superior environmental performance in conformity with the 2007 Japanese national emissions regulations for motorcycles.
The latest addition to the popular Z Series, the Z250 will satisfy a wide range of users from novices to accomplished riders with its unique styling and outstanding performance.
Product name

Z250

Scheduled release date

April 15, 2013

Colors

Flat Ebony
Pearl Stardust White
Key Features
Engine:
- The Z250 has a liquid-cooled, four-stroke, parallel twin-cylinder DOHC four-valve engine (248 cm3). Its distinctive parallel twin-cylinder engine delivers power at low- and mid-range speeds and agility at high speeds.
- The newly designed lightweight pistons along with the sleeveless aluminum die-cast cylinder with plated bores and open-deck construction add up to less weight, more durability, and better cooling efficiency for stable performance.
- The dual throttle valves ensure precise control of air intake, resulting in excellent throttle response and smooth engine performance. Combined with the fuel injection system, the dual throttle valves also improve combustion efficiency for enhanced performance and fuel economy.
- The short-style silencer with its complex cross-section gives the Z250 a sporty look. The exhaust header pipes, featuring a unique design for maximum length, are equipped with a three-way catalyst in the collector pipe to realize excellent environmental as well as engine performance.
Chassis:
- The Z250's muscular bodywork with a forward-crouching stance as well as compact tail cowl design is inspired by the street-fighter concept of its Z Series predecessors. Its aggressive visage and the dynamic design of the engine shrouds create a strong visual impact that is distinctively Z.
- The narrow parallel twin-cylinder engine and compact diamond-shaped steel frame result in a streamlined chassis. A relaxed, upright riding position and wide handlebar make it easy to handle even for beginner riders and enable active machine control.
- Front and rear disc brakes with a 290-mm front petal disc and a 220-mm rear petal disc ensure superior stopping power and superb control.
- Stylish 10-spoke aluminum wheels used for supersport models coupled with the 140-mm rear tire contribute to excellent ride quality and stability while giving the Z250 a sportier look.
Equipment:
- The newly designed instrument package featuring a large, analog-style tachometer and a multi-function LCD screen ensures clear meter visibility and adds to the Z250's outstanding, cutting-edge image. The LCD display includes a digital speedometer, clock, fuel gauge, dual trip meters, odometer, and the Economical Riding Indicator.
- Easy-to-use two-stage storage compartment located under the rear seat can hold a U-lock, electronic toll collection (ETC) unit as well as the tool kit that comes with the motorcycle.
  *The ETC unit and U-lock cannot be mounted together.